Huge expansion of free public WiFi in Sunderland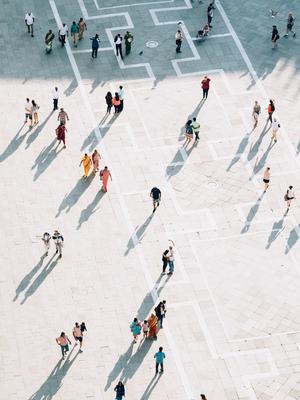 Residents and visitors to the city can enjoy free, superfast and reliable Wi-Fi in many more outdoor places, thanks to Sunderland City Council and BAI Communications' free public Wi-Fi network expansion.
Free, superfast public Wi-Fi has been available at Keel Square and High Street West, since December 2019 when it was launched by Sunderland City Council, then extended out to the coastal stretch between Roker and Seaburn six months later.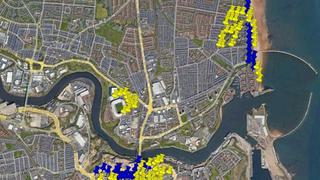 Now, through Sunderland's leading smart city infrastructure – a result of the unique strategic partnership between Sunderland City Council and BAI Communications (BAI) – this service is seeing a huge expansion with the number of access points tripling as the rollout continues over the coming weeks.
This sees the footprint of where the service is available expanding by an extra 1.5 square kms, accompanied by a much denser coverage across the city for a more reliable and superfast connection.
Image: Illustrating the scale of the expansion – the blue pins represent the existing Wi-Fi locations across Sunderland and the yellow pins show the new expanded Wi-Fi coverage.
Free public Wi-Fi in Sunderland is certified by Friendly Wi-Fi, the safe certification standard for public Wi-Fi. The Friendly Wi-Fi logo represents the safety standard for public Wi-Fi, and users of the service across Sunderland can feel confident that it is filtered to meet the minimum levels of protection. This means that inappropriate content will be automatically filtered to help prevent such material being accessed by children or young people on their devices in public places.
The rapid growth of free, high-quality internet access across Sunderland with the announcement of even more locations benefiting from the ground-breaking public Wi-Fi network, demonstrates another digital leap forward for this smart city.
People across the city will start to see adverts and information promoting the '1, 2, FREE' campaign which aims to inform residents and visitors to Sunderland how easy it is to access the free, superfast 'Free Sunderland Wi-Fi'.
The expansion underlines the partnership's commitment to bringing safe, superfast and reliable connectivity, via its growing smart city infrastructure, to people living in and visiting Sunderland.
Liz St Louis, director of smart cities at Sunderland City Council, said: "We are passionate about creating better connected experiences for all, ensuring no one and nowhere is left behind as we continue to expand the availability of free, superfast public Wi-Fi in Sunderland city centre and the coast at Roker.
"This extended access will not only allow for greater digital inclusion, it will open up new opportunities for seamless connectivity from place to place. Our focus is on superfast, reliable and uninterrupted connectivity – our ultimate ambition is that wherever a person is in the city, they can connect and stay connected, no matter where they move to around Sunderland city centre and out to the coast at Roker."
Liz added: "People have asked us how this differs from what they already receive through their device from their mobile provider – the key difference is that what we are developing with BAI is a high-speed network and importantly, in our free public Wi-Fi zones, people can simply click and go, saving their own data as they utilise our superfast, reliable network '_Free Sunderland Wi-Fi'.
Claire Venners, General Manager at BAI North, said: "Removing barriers to connectivity is critical to bridging the digital divide, and we're delighted to be further expanding our Wi-Fi network to ensure everyone in Sunderland has the opportunity to access fast, reliable internet access at no cost when out and about.
"This connectivity helps to accelerate Sunderland's reputation as a digital leader, and the infrastructure we are building is critical to supporting employment and education as well as economic and social prosperity.
"Combining our expertise with such a forward-thinking local authority will ensure people and businesses across the city will reap the many benefits of enhanced digital connectivity, both now and in the future as we move towards a 5G world."
The North East Local Enterprise Partnership's (LEP) Getting Building Fund and the Department for Levelling Up, Housing and Communities (DLUHC) have underpinned the Sunderland Smart City Infrastructure project with a joint investment of £4.5M. This investment continues to support the acceleration of regeneration across Sunderland Riverside and the city centre.
Bev Smith, director at Friendly Wi-Fi, said: "We are delighted to support Sunderland's digital infrastructure improvements. We recognise that many families and young adults use the public Wi-Fi and it is important to reassure them that it is filtered and safe.
"The council's people first approach is evident as they strive to connect and empower residents, businesses and visitors to the city with their safe public Wi-Fi that carries our Friendly Wi-Fi standard."
Helen Golightly, chief executive officer at the North East Local Enterprise Partnership, said: "Our investment programmes are designed to improve and support the North East's economy. The Sunderland Smart City Infrastructure project is delivering 5G and strategic infrastructure works to connect people and places, augment opportunities and generate city-wide sustainable growth.
"Watching the rapid growth of Sunderland as a leading example of a smart city has not only positioned the city on the map as a digital leader, but cemented the progress of the whole region on a national and international stage."
The latest extension of high-speed connectivity is part of a wider strategy comprising numerous collaborative projects led by Sunderland City Council and partner BAI, to augment Sunderland's digital infrastructure for the benefit of everyone across the city and further boost Sunderland's reputation as a connected, international city.
The partnership also includes the building of a new private 5G network across the city, including a 5G test lab in The University of Sunderland, making it one of the UK's first 5G-enabled universities.
Updates will be posted on www.sunderlandoursmartcity.com as Sunderland's smart city infrastructure continues to grow.