Cleveland Cavaliers and Boldyn Networks partner to implement Nnew 5G connected fan experience at Rocket Mortgage FieldHouse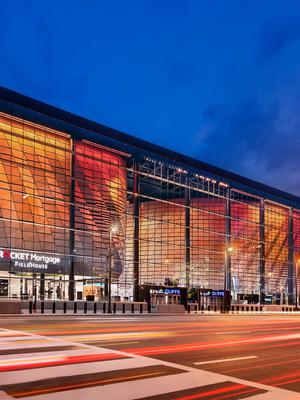 NEWPORT BEACH, Calif. – July 11, 2023 – The Cleveland Cavaliers and Boldyn Networks, have partnered to bring ultra-fast, robust 5G connectivity to Rocket Mortgage FieldHouse. The new multi-carrier venue network will deliver unmatched, seamless wireless experiences for fans and staff at Cleveland Cavaliers and Cleveland Monsters games, as well as to the nearly 200 regularly sold-out entertainment events annually. 
The industry-leading wireless network at Rocket Mortgage Fieldhouse features Boldyn Networks' cutting-edge neutral host indoor Distributed Antenna System (DAS) technology that supports all 5G spectrum bands, including 2.5GHz and C-band. Once complete, the powerful connectivity across the 19,432-seat venue and its surrounding areas will equip the Cavaliers – named one of the 25 most innovative teams in the world – with the ability to build upon their digital initiatives and enable technologies like in-venue only non-fungible tokens(NFTs), virtual and augmented reality (VR/AR), live visual effects (VFX) and more.
"Our fans are the heart and soul of the Cleveland Cavaliers, and it's our responsibility to provide them with an unparalleled, immersive gameday experience the moment they enter into Rocket Mortgage FieldHouse," said Michael Conley, Chief Information Officer of Cleveland Cavaliers. "We're constantly exploring new ways to leverage innovative, emerging technology that will deepen connections with our fans in Cleveland and beyond, and we couldn't do this without our partnership with Boldyn Networks. Their expertise in delivering industry-leading 5G technology and commitment to providing state-of-the-art solutions ensures we are well positioned to truly redefine the connected fan experience."
This deployment for the Cavaliers anchors Boldyn Networks' mission to bring improved connectivity across the region. Currently, Boldyn Networks operates outdoor small cells across downtown Cleveland, providing enhanced, reliable and secure mobile coverage for the community. With tens of thousands of fans flocking to the city on game days and for live-entertainment events, seamless connectivity across downtown Cleveland is a critical element of the entire event-going experience. 
"We're thrilled to partner with the Cleveland Cavaliers to bring spectacular and engaging fan experiences to Rocket Mortgage FieldHouse," said Christos Karmis, CEO of Boldyn Networks' US business. "Our next-generation 5G venue infrastructure paired with the small cells we have already deployed across the city will provide fans with seamless connectivity and unparalleled access to the latest technologies and applications, setting an even higher new standard in the world of sports and entertainment."
For more information about Boldyn Networks, and to learn more about its innovative connectivity solutions for sports and entertainment venues, visit: boldyn.com.
About Boldyn Networks
Boldyn Networksis one of the world's largest neutral host providers, delivering the advanced shared network infrastructure needed for a smart, inclusive, and sustainable future. It brings together the combined scale and expertise of six* companies with a single purpose: to unlock the power of an interconnected future.
From connected transit, venues and enterprises to smart cities and next-generation networks, Boldyn Networks enables new possibilities in the way people live, work and play. Our portfolio is harnessing fiber, advancing 4G/LTE, accelerating 5G, preparing for 6G–and looking beyond to the next breakthroughs, and global operations span the US, the UK, Ireland, Italy and Hong Kong. Boldyn Networks. Reimagine tomorrow. Transform today.
*Including BAI Communications in the Northern Hemisphere, Mobilitie, Signal Point Systems, Transit Wireless, Vilicom and ZenFi Networks.
URL. LinkedIn. Twitter.
Contact
Neg Kiaee 
neg@mobilitie.com