Boldyn Networks and ASM Global redefine the connected fan experience with state-of-the-art converged network at Cowtown Coliseum
The network will feature 5G DAS, private CBRS, and Wi-Fi 6E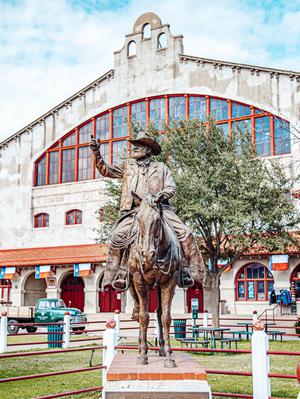 September 19, 2023 | Fort Worth, Texas
Fort Worth's renowned Cowtown Coliseum, the site of Elvis Presley's earliest concerts, the first-ever indoor arena in the country to host rodeos and the center of the National Historic District known as The Stockyards, will soon be equipped with state-of-the-art ubiquitous 5G coverage, further revolutionizing the guest experience at the iconic venue.
ASM Global, the world's largest provider of live entertainment experiences; Stockyards Heritage Development Co., a partnership between Majestic Realty Co. and Hickman Investments; PBR (Professional Bull Riders), the world's premier bull riding organization; and Boldyn Networks (Boldyn), a leading telecommunications infrastructure provider in the United States and globally, joined forces on this project in close collaboration with the City of Fort Worth. 
This deployment will be one of the live entertainment industry's most technologically advanced and robust projects to date. It will not only seamlessly power applications like mobile ticket scanning, mobile Point of Sale (PoS) transactions, and mission critical voice communications, but also support new technologies and use cases, such as immersive AR/VR experiences, live video broadcast, real-time fan engagement applications, helmet cams, wireless roping chutes, and more, all while ensuring the architectural integrity and aesthetics of the venue are maintained.
"With thousands of fans flocking to the venue for each event, it's critical to have a wireless connectivity backbone that provides an unrivaled and immersive connected experience," said Jason Oberlander, chief commercial officer of ASM Global. This fuels our ability to enhance events for the record-setting millions of western sports and live entertainment fans who visit us annually from around the world."
Boldyn's US CEO Christos Karmis said, "We're committed to helping ASM Global revolutionize the fan experience at Cowtown Coliseum. Our industry-leading infrastructure enables 5G connectivity to deliver wireless coverage and capacity throughout the arena at one of Texas' most notable venues. The deployment of all three networks sets a new benchmark for digital transformation at large-scale, historical venues. We are proud to be part of this project that supports Fort Worth's rich heritage."
The technology showcase will feature an industry-leading multicarrier Distributed Antenna System (DAS), a private network utilizing Citizen Broadband Radio Service and Wi-Fi 6E— the latest iteration of Wi-Fi technology. Once complete, Boldyn's network will be integrated with all major wireless carriers and provide ubiquitous 5G mobile coverage throughout the entire venue.
---
About ASM Global
ASM Global is the world's leading producer of entertainment experiences. It is the global leader in venue and event strategy and management—delivering locally tailored solutions and cutting-edge technologies to achieve maximum results for venue owners. The company's elite venue network spans five continents, with a portfolio of more than 350 of the world's most prestigious arenas, stadiums, convention and exhibition centers, and performing arts venues. Follow us on Facebook, Instagram, LinkedIn and Twitter.  asmglobal.com
About Stockyards Heritage Development Co.
Stockyards Heritage Development Co. is a partnership between nationally recognized developer Majestic Realty Co. and Fort Worth's Hickman Investments. Created with the intention of thoughtfully reimagining the historic Fort Worth Stockyards, the company is dedicated to preserving the National Historic District legacy while elevating it with experiences for locals and visitors from abroad. Accomplished through a public/private partnership with the City of Fort Worth and Tarrant County, the project's first phase, Mule Alley, broke ground in the fall of 2018 to include the renovation of the destination's historic, 108-year-old horse and mule barns into a street of curated shops, restaurants, retail, office spaces and the Hotel Drover, an Autograph Collection hotel.
About PBR (Professional Bull Riders)
PBR is the world's premier bull riding organization. More than 800 bull riders compete in more than 200 events annually across the televised PBR's Unleash The Beast tour, which features the top bull riders in the world; PBR's Pendleton Whisky Velocity Tour; the PBR Touring Pro Division; and PBR's international circuits in Australia, Brazil, Canada and Mexico. In 2022, PBR launched the PBR Team Series — eight teams of the world's best bull riders competing for a new championship — as well as the PBR Challenger Series with more than 60 annual events nationwide. The organization's digital assets include PBR RidePass on Pluto TV, which is home to Western sports. PBR is a subsidiary of Endeavor, a global sports and entertainment company. For more information, visit PBR.com, or follow on Facebook, Twitter and YouTube. 
CONTACTS:
Neg Kiaee
neg.kiaee@boldyn.com
949-531-3828
Jim Yeager
breakwhitelight (for ASM Global)
jim@breakwhitelight.com
818-264-6812