News
Boldyn Networks wins in multiple categories at the TMT M&A Awards USA 2023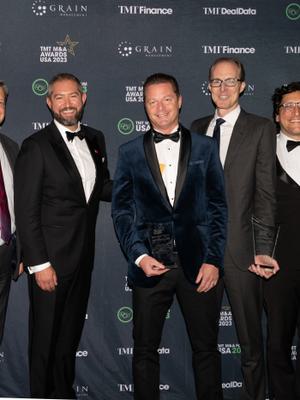 The company was selected as finalists for three categories – Digital Infrastructure Growth Story, Wireless Deal of the Year, and Fiber Deal of the Year 
29 September 2023 | New York City 
NEW YORK--(BUSINESS WIRE)--Boldyn Networks (Boldyn) won big at the TMT M&A Awards USA 2023, taking home two awards, including the Wireless Deal of the Year for its acquisition of ZenFi Networks, and the Digital Infrastructure Growth Story award for its remarkable growth in 2023. Over 300 leading advisors, investors, and deal makers attended the award dinner representing the digital infrastructure, telecoms, cloud, and software sectors.
The awards are the culmination of a year-long strategy to expand, acquire, merge, and re-launch multiple company brands across their global portfolio. The Wireless Deal of the Year recognizes the successful purchase and integration of New York City-based ZenFi Networks. Many judges note that the acquisition of the ZenFi infrastructure and network is the perfect complement to the existing and expanding footprint currently integrated throughout the New York City Subway system by the firm. Boldyn Networks now has a ubiquitous network available for New Yorkers across all five boroughs.
Boldyn Networks also received accolades for the best Digital Infrastructure Growth Story and awarded the company for the remarkable growth trajectory they have experienced in 2023. It was noted that the scale and pace of growth are derived from both organic expansion and the strategic consolidation offour leading US companies in the neutral host space. With the largest breadth of services, Boldyn Networks' US business has become the dominant partner of choice and most forward-looking neutral host provider in North America.
The company is also behind massive connectivity projects in some of the world's biggest cities including London, New York, San Francisco, Rome, and Hong Kong. For Boldyn Networks, recent growth and expansion are the result of its commitment to provide customers across the Northern Hemisphere with an end-to-end neutral host network solution.
"It was an honor to be shortlisted for not just one or two, but three awards. And to win Wireless Deal of the Year and best Digital Infrastructure Growth Story is just a great outcome. This reaffirms that we are taking the right steps in our growth strategy. As one Boldyn team, we have ambitious goals for our neutral host business globally with a laser focus on what we can do in the US. And we are thankful to the TMT M&A Awards USA for recognizing our efforts," said Igor Leprince, Group Chief Executive Officer at Boldyn Networks. "We're very proud of our extraordinary expansion around the globe and milestone projects in very challenging environments in the past year."
The awards ceremony took place on September 28th at the Metropolitan Club, New York, and was attended by members of Boldyn Networks' leadership team including Igor Leprince, Group Chief Executive Officer, and Jeff Garte, President, Northeast, US.
---
Note to the editor 
Boldyn Networks' existing deployments worldwide include connectivity for 6 major transit systems like TfL and the MTA, with nearly a thousand stations covered around the world, serving 550 million passengers annually; more than 300 neutral host public venues like L.A.'s Crypto.com Arena; 126,000 small cell sites; 77 co-location facilities; nearly 3,000 miles of fiber and 300 macro towers. This is in addition to some of the largest Wi-Fi networks above and below ground in cities like NYC, Las Vegas, and London, including over 2,000 Link kiosks in NYC; and connectivity deployments in 75 US military bases.