Our people stories
Be yourself & do great work
Shueb Ahmed, Commercial Fibre Lead, UK & Ireland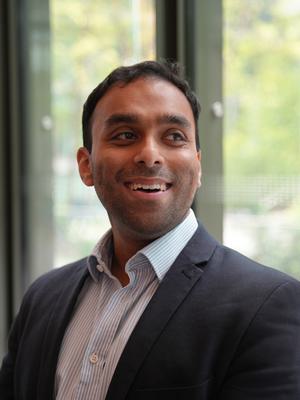 I work as a commercial fibre lead. This means commercialising our fibre network, whether that's fibre in the London Underground or above ground, fibre used for small cells or public connectivity. My day-to-day is really varied. One of the best parts is getting to deal directly with customers, as well as different departments from my own.
Originally, I was attracted to Boldyn Networks because I wanted a challenge and to add more strings to my bow. I wanted to be able to grow more with and for a company that's quite fast-moving, agile, and fresh. I needed a company that would match my style, and Boldyn Networks fit that bracket.
With Boldyn Networks being a growing business, I feel I have more flexibility to not fixate on any one area. We're starting to get more opportunities, more areas of need, both for us as individuals and as a business. We're adding more people to our team, which enables our business to grow, and more customers to be brought in.
I've got amazing support from everyone, from my own manager to the wider organisation, and I can make more of myself because I've been given that freedom.
The most exciting part about my work is helping to grow the business and meeting customers. I like being able to introduce fibre through the underground network, deploying fibres in a commercial way so everyone can use it – public or fixed networks, and mobile network operators – which is something new in London.
In terms of making my own mark, I've had amazing support here from everyone, whether my own manager or the wider organisation. I can make more of myself because I've been given that freedom. With my team, I think we're trailblazing in many ways, especially across London. I can proudly say that I had a hand in getting fibre through the underground for businesses and industries across London; a global city with over 9 million people in it. That's how I look at it.
I think digital connectivity is the highway of the future. We're in an age where we can't live without it. You have a multitude of services that can sit on top of fibre so I think that's the reason my work is relevant and worthwhile.
At Boldyn Networks, we have a very open and honest culture. You can be bold and speak your mind. There's also a lot of focus on well-being and work-life balance. We recognise that even though we can sometimes work at a high-level, receiving feedback on what works for each person helps. Even with small things like no emails after a certain time or on weekends, pressure can be alleviated a bit. So for that reason, I think Boldyn Networks' working style is definitely up there with the Metas and Googles of the world.
Be yourself & do great work
Want to join Shueb and the rest of our team? Interested? Explore our latest vacancies and find a role where you can build your future.