Blog
Rethinking infrastructure to build smarter communities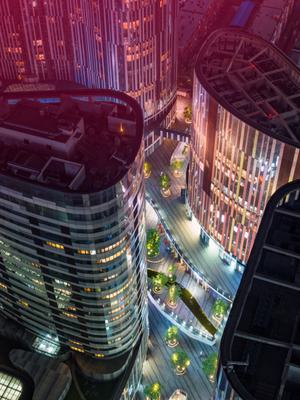 Many people in the workforce today have never known anything other than exclusively digital workplaces. Connectivity permeates every aspect of our personal and professional lives; and advances in computing technology have given us the ability to access the digital world from anywhere. Smart communities are a natural extension of this technological evolution, and they depend on reliable, ubiquitous connectivity.
Boldyn Network's recent research on smart communities found that building and supporting connectivity that meets the needs of all stakeholders has proven difficult for many businesses. In this blog, we'll explore what makes it so challenging, and what we at Boldyn Networks are doing to help bring more connectivity to more places.
Achieving excellent connectivity is critical
One of the biggest challenges is that the growing demand for connectivity often requires building network infrastructure in locations that never needed it before, many of which were not designed with connectivity in mind. That includes places where it's hard to bring wireless coverage, such as underground subway systems or remote wind farms. It includes dense urban areas where existing spectrum is crowded and there simply isn't space for large physical assets. And it also includes inside buildings, where walls, furnishings and new technologies like energy-efficient glass that blocks the indoor penetration of mobile service signal from outdoor macro-cells making difficult to achieve consistent mobile service coverage.
These types of settings pose problems for cell towers and other traditional mobile infrastructure, which were generally designed to provide coverage across wide areas to thousands of service subscribers. Adding to the problem is the fact that the spectrum used to deploy Wi-Fi (IEEE802.11) networks is unlicensed which means that its use is not regulated by any national authority, like in the case of mobile networks spectrum and therefore is plagued by interference issues that reduce its capacity and performance. This makes it difficult to design fast and reliable connectivity to service wide areas using Wi-Fi; despite standardisation efforts to increase the ease of interoperability between Wi-Fi and mobile (3GPP) technologies. Therefore, it's still not common to integrate them in the same network, at least not in a way that make business sense from both an integration cost and value creation perspective.
The growing demand for connectivity requires
building network infrastructure in locations
that never needed it before.
5G is not always the right solution
In the face of these challenges, many of the enterprises and venues we surveyed are looking to improve their own networks and connectivity, which will put them in a better position to improve their business and operational processes through digital transformation. This will allow them to participate in and contribute to building smart community initiatives.
To that end, some 70% of survey respondents plan to build 5G networks, even if their current networks are several generations behind that. In many cases, 5G networks are viewed as a sort of 'holy grail' that will solve all of their connectivity challenges. The reality is more complicated, and leaping straight to a 5G solution is not always the best course of action.
Indeed, 5G offers many advantages over previous generations, including lower latency and higher network capacity. However, in many instances a 5G deployment may not even be necessary. For some use cases and applications, a cloudified 4G private network will be able to meet business needs at a lower cost and be easier to manage, especially for businesses upgrading from Wi-Fi.
For some use cases, a cloudified 4G
private network is a better solution
than a 5G network.
My advice for companies that want to make their networks ready for smart communities is to determine what they want their network to do, then call in an expert partner (like Boldyn Networks (Boldyn Networks)) to help them choose, design, and implement the best solution to meet those needs — whether that's 4G, 5G or some other option.
How Boldyn Networks is supporting advanced connectivity infrastructure
Achieving true ubiquitous connectivity is a highly specialised field that requires a lot of coordination among stakeholders. A neutral host like Boldyn Networks is usually in the best position to support this kind of deployment thanks to our deep expertise, the ability to work with many different partners and the financial capability to support multi-year deployments.
We've invested heavily in R&D into areas such as the cloud, network functions virtualisation (NFV) and other emerging technologies, because we recognised the problems with legacy systems. We understood that new solutions were going to be needed to meet the growing demand for connectivity and new deployment models. Technology is evolving continuously and we need to be able to flexibly address new requirements ad challenges posed by the complex business and operational environments of our customers. Underpinning the infrastructure is a purpose-built platform that can enable the kinds of applications and outcomes companies are looking to achieve, more efficiently and at lower cost. Our platform is built around three main components.
First, there's design. Every situation is a little different, and a one-size-fits-all option rarely offers a truly effective solution. Every solution we deliver is purpose-built to achieve the desired outcomes within the parameters and context of each individual project.
Second, our systems are hosted in our own private cloud. This gives us the flexibility and agility to expand as required, move core network functions to where they're needed, run multiple networks as a service, as virtual tenants, on the same infrastructure, leverage artificial intelligence and data analytics, and more.
Finally, we offer fully managed services, operating the network so our partners and end users can focus on achieving their goals.
With the right infrastructure, the possibilities are limitless.
This blog is the third in a series exploring the themes uncovered in our 2022 Smart communities report: The building blocks of smarter, more connected communities.
Watch for the final blog in this series for more on how organisations are preparing to move forward with smart community initiatives and partnerships.