BLOG
Shaping the future of the industry through sustainable shared infrastructure
by Brendan O'Reilly, Group COO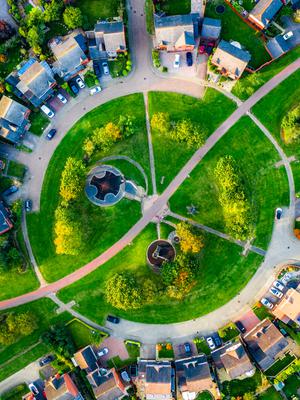 Over the past several decades, the wireless industry has revolutionised the way we communicate — bringing mobile and high-speed connectivity across the world. Changing how we live, work, and play. Every day, people, businesses, and communities rely on wireless networks to stay connected and live their lives.
Yet, many of us don't stop and think about the very complex infrastructure that makes our devices work... it's just supposed to work, right? And be safe to use. And there is now an expectation for it to be environmentally sustainable.
That's what I want to talk about, not only from my perspective as Group Chief Operating Officer of Boldyn Networks, but also as the executive sponsor for Boldyn Network's ESG initiatives.
There has been an unusual level of media attention on America's wireless infrastructure over the past few weeks. This is in response to a strong focus on reducing energy usage and carbon emissions.
The fact is, safety and sustainability continue to be a core focus for our industry globally. And the industry as well as Boldyn has made significant strides in environmental stewardship.
Neutral hosts: A greener path
At Boldyn, we see neutral host technology as an innovative model for network infrastructure investment that can reduce the environmental impact while improving the quality of the customer experience.
How does it work?
Efficient deployment: Neutral host accelerates the deployment of mobile networks, making the supply chain, deployment, and operations more cost and energy efficient.
Reduced energy consumption: Neutral host technology helps reduce the existing 4G network consumption and minimise the energy used to create and maintain new 5G networks.
Enhanced coverage: Neutral host capability facilitates mobile operators in expanding their network reach through modern state-of-the-art shared networks. This minimises the need for installing multiple carrier-dedicated networks, ultimately resulting in a more efficient use of resources.
Boldyn Network's commitment to sustainability
We recognise that climate change is a planetary threat and one of the world's most pressing issues. It's been estimated that the wireless industry is responsible for 1.4% of global emissions (CTIA).
At Boldyn, we have prioritised reducing carbon emissions, embracing more sustainable practices, and constructing more resilient and energy efficient networks.
We have looked at practices that can help reduce resources and energy consumption while maintaining network efficiency …
We have incorporated ESG targets into our business by aligning to 5 UN global Compact SDG's, including our work towards SDG 13 (climate action).
Our vision is to be net zero scope 1 and 2 emissions by 2040 or earlier.
And we are assessing how to incorporate the reduction of scope 3 emissions over the next two years by partnering with suppliers and customers.
And we're fortunate to have the full support of our majority shareholder Canada Pension Plan Investment Board (CPP Investments), which views sustainability-related considerations as business critical.
A shared responsibility
Neutral host technology is emerging as a promising solution to enhance the environmental performance of networks while maintaining high-quality connectivity. The wireless industry, including Boldyn, acknowledges the need to prioritise sustainability practices that reduce energy consumption and resource utilisation while ensuring the continued efficiency of wireless communication systems.
As we strive to unlock the power of an interconnected future, we'll continue to build and deploy our products and services in a sustainable way. By constructing resilient and energy-efficient networks, we're striving to balance innovation with sustainability. That's our obligation and commitment to our customers, employees,
suppliers, partners and shareholders as an industry leader. We all share a vested interest in a greener and more connected world for generations to come.
To learn more check out Boldyn Networks' sustainability report.