Boldyn Networks and ASM Global's first direct arena Leeds to create the first 5G neutral host arena in the UK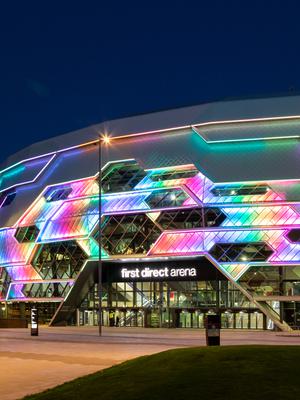 Boldyn Networks and ASM Global, the world's leading producer of entertainment experiences, venue management and event strategy, introduce high-speed mobile connectivity throughout first direct arena in Leeds
The new 5G multi-carrier wireless network will transform the guest experience and benefit venue operations and logistics
The neutral host network model is designed to be shared by all four UK mobile network operators to deliver seamless connectivity to their customers
28 June 2023 | London, England
Boldyn Networks and ASM Global, the world's leading producer of entertainment experiences, venue management and event strategy and operator of the first direct arena in Leeds, have today announced the creation of the UK's first 5G neutral host arena. This collaboration brings high-speed, high-capacity mobile connectivity throughout the entire venue, revolutionising the visitor experience.
The announcement marks another step in the partnership between Boldyn Networks and ASM Global to bring cutting-edge connectivity solutions to leading entertainment venues around the world.
Designed and installed by Boldyn Networks, the new 5G multi-carrier wireless network will enhance the experience for fans attending events at the 13,000-capacity award-winning venue, an integral part of Leeds' vibrant cultural scene.
Visitors will be able to stay connected and benefit from more interactive, digitally enabled facilities and services. From enhancing ticketing processes, enabling more efficient entry for visitors, and navigating around the venue, to speeding up the browsing and ordering from the range of food and beverage options, the fast, reliable mobile network will streamline operations and commercial activity within the venue.
Sponsors can also leverage this enhanced network to offer exclusive promotions and experiences, fostering stronger connections with their target audience.
The neutral host network model, implemented by Boldyn Networks, is designed to allow all four UK mobile network operators to join onto the network, minimising equipment and power usage, contributing to a more sustainable and efficient means of delivering reliable mobile connectivity to customers. 5G service will be rolled out as the mobile network operators connect to Boldyn's neutral host network.
Paul Osborne, Chief Commercial Officer, UK & Ireland at Boldyn Networks said:"We are incredibly proud to collaborate with first direct arena on this pioneering project. The launch of the UK's first 5G neutral host arena represents a significant leap forward in delivering seamless, high-speed connectivity for both fans and venue operators. This collaboration highlights our shared commitment to working with venues, including through our partnership with ASM Global, to revolutionise the visitor experience and set a new standard for connectivity in entertainment venues."
Chris Bray, Executive Vice President Europe at ASM Global said:"At ASM Global, we are continually striving to elevate the experience for all of our guests, and collaborating with innovative partners helps us keep our finger on the pulse. So we are naturally very excited to bring 5G to the very first UK arena alongside the team at Boldyn Networks. Soon, guests at the first direct Arena in Leeds will be able to experience live entertainment with complete connectivity, and not only that, there'll also be vast improvements operationally, with high-speed 5G allowing our team on the ground to be even more agile in a fast paced environment."
---
About Boldyn Networks
Boldyn Networks is one of the world's largest neutral host providers, delivering the advanced shared network infrastructure needed for a smart, inclusive, and sustainable future. It brings together the combined scale and expertise of six* companies with a single purpose: to unlock the power of an interconnected future. From interconnected transit, venues and enterprises to smart cities and next-generation networks, Boldyn Networks enables new possibilities in the way people live, work and play. Our portfolio is harnessing fibre, advancing 4G/LTE, accelerating 5G, preparing for 6G–and looking beyond to the next breakthroughs, and global operations span the US, the UK, Ireland, Italy and Hong Kong. Boldyn Networks. Reimagine tomorrow. Transform today.
*Including BAI Communications in the Northern Hemisphere, Mobilitie, Signal Point Systems, Transit Wireless, Vilicom and ZenFi Networks.
About ASM Global
ASM Global is the world's leading producer of entertainment experiences. It is the global leader in venue and event strategy and management – delivering locally tailored solutions and cutting-edge technologies to achieve maximum results for venue owners. The company's elite venue network spans five continents, with a portfolio of more than 350 of the world's most prestigious arenas, stadiums, convention and exhibition centers, and performing arts venues.
For more information, please visit https://www.asmglobal.com/
About first direct arena
first direct arena is the major entertainment venue located in the vibrant city centre of Leeds, hosting live music, comedy, entertainment shows and sporting events.
Voted Best New Venue in the World 2014 at the Stadium Business Awards. first direct arena has played host to some incredible artists since opening in September 2013, including Sir Elton John, Bruce Springsteen, Michael Bublé, Sports Personality of the Year, Gary Barlow, Prince, Miley Cyrus, Le Tour De France Grand Depart, John Bishop, Championship Boxing, Queen + Adam Lambert, Fleetwood Mac, Premier League Darts, Neil Young, Bette Midler, Drake, Morrissey, The Eagles, Pharrell Williams, John Legend, The MOBO Awards, and Mumford and Sons.