Smart communities and how they're changing the world – Q&A with Brendan O'Reilly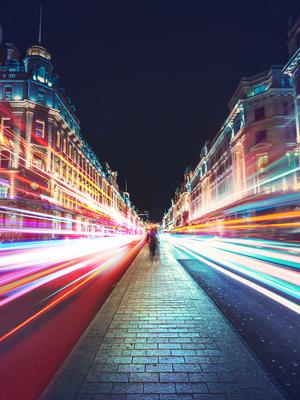 This media release/news item was published prior to our rebrand to Boldyn Networks in June 2023. Learn more about our rebrand here.
Smart communities and smart cities are set to deliver a number of benefits, including environmental sustainability, reducing the digital divide, and improving people's lives with smarter, personalized and more intuitive services and experiences.
But making them work involves a good deal of technology such as 5G, small cells and distributed antenna systems (DAS), as well as needing partnerships between governments and businesses. BetaNews (BN) spoke to Brendan O'Reilly (BOR), group chief technology officer at BAI Communications to find out more about smart communities and what makes them work.
BN: What are smart communities? Can you give an example?
BOR: We define smart communities as the building blocks of smart cities that use advanced, cutting-edge technologies, as well as real-time data analytics to reduce inequities, and to help close the digital divide, in conjunction with substantial improvement in environmental sustainability. Smart communities leverage dependable connectivity solutions at scale to improve the quality of life for generations to come.
A good example of how smart communities underpin smart cities is Sunderland City in the UK, BAI Communications is working with Sunderland to help it achieve its smart city goals, creating a connectivity backbone based on a neutral host model to provide a platform for business growth and innovation. We're extremely proud of the Sunderland project, which received the UK Smart City of the Year 2020 award and was recognized by the 2021 Connected Britain Digital Council of the Year for bringing substantial social and economic benefits to its residents, businesses, and visitors, including the creation of over 100 jobs.
BN: What types of technologies are required to create a smart community?
BOR: One of the most effective ways to build a smart community is by using a neutral host model with in-building Distributed Antenna Systems (DAS), macro cell towers and fibre-optic networks. These are then leased to mobile network operators (MNOs) and other service providers. This gives MNOs access to reliable, advanced connectivity they can use to deliver their own services and accelerate 5G adoption without the costs of building and maintaining their own infrastructure.
Neutral hosts also address many of the operational and financial challenges that hold organizations back from upgrading their networks and investing in smart community initiatives.
Shared network infrastructure is becoming increasingly important in supporting the rollout of smart community applications. It enables organizations to deliver reliable connectivity, service multiple networks, and provides coverage in areas with limited capacity for network assets, without increasing costs.
In London for example, we're building a neutral host network that will act as the backbone for 5G connectivity across the city's Underground network. But this will be far more than just a network that provides passengers with constant connectivity while they are riding on the London Underground or using the network near each station, it will also enable fibre service providers to offer connectivity to premises across London.
BN: How do smart communities benefit those that live and work in them?
BOR: The end goal of smart communities is to enhance people's lives through seamless urban mobility, sustainable living, smart health monitoring, intelligent waste management, as well as quality education to close the digital divide.
Smart communities can make a positive impact on citizens' daily lives in real tangible ways. Bus shelters and lampposts housing small cells can leverage the power of 5G and the IoT to deliver improvements in areas like traffic congestion, public safety, and city planning.
Modernized, smart public transport can provide timely scheduling and routing updates, enable frictionless fare payment, monitor passenger loads to avoid overcrowding and maintain social distancing, and provide personalized recommendations based on riders' habits. Smart security keeps people safe by sending automatic alerts to emergency services when something doesn't quite look right.
Smart cities also bring the needed technology for the use of public self-driving vehicles, which can better connect rural and urban communities, reduce road collisions caused by human error and reach zero emission targets along the way. A new pilot of self-driving shuttles is rolling out also at Sunderland City Council with funding from the UK government and support from BAI with 5G networks.
There are huge economic and social benefits that can positively impact a region's potential. A recent study from Sunderland estimates that it would realise £441m (estimated $506 million) in productivity and innovation gains; £97m (estimated $111 million) from an extended workforce; £30m (estimated $34.4 million) in local authority efficiency savings; and £226 (estimated $259 million) in increased housing value, from its investments in fibre optic cables.
BN: What are the biggest challenges facing the widespread adoption of smart communities?
BOR: The key challenge right now is the speed at which legacy network infrastructure is being upgraded. Despite the general belief that improved connectivity infrastructure is useful for solving a range of business challenges, that belief does not always translate into ongoing network infrastructure upgrades. According to respondents in our recent survey and report (Smart communities 2022), 90 percent of respondents face inadequate foundational network infrastructure.
Many companies choose to continue using older generations of network infrastructure, even when newer generations are available. This requires them to 'leapfrog' multiple generations (rather than make incremental, iterative improvements) when they do upgrade and continues to be one of the main roadblocks to the global development of smart communities.
However, this 'wait and leap' strategy puts organizations in the position of having to deal with the challenges of maintaining older network generations longer and sets themselves up for additional challenges related to upgrading waning infrastructure, such as significantly higher implementation costs and lagging technology availability. These organizations should instead focus on partnering with visionary connectivity partners that have the 'long-termism' they need to future proof their networks and ensure they suit the needs of citizens today, and tomorrow.
BN: How can companies work with municipalities and local governments to make smart communities happen? Is there a blueprint for success?
BOR: Smart, connected communities are not built by governments alone. These projects demand coordinated efforts from a range of stakeholders, including public sector organizations, network service providers and private businesses.
In fact, cross-industry collaboration is critical to enabling smart community transformations. This requires a coordinated effort between government, public and private enterprises, shared infrastructure, transit, and neutral host providers to bridge the gaps and develop a robust foundation for connectivity, now and well into the future.
While there is no blueprint for the successful development and widespread adoption of smart communities just yet, from our perspective it's imperative to have private organizations, governments and infrastructure partners all working together. The private/public collaboration enables stakeholders to leverage existing public infrastructure, alleviate budget constraints, deliver ubiquitous connectivity, and securely enable high-quality services.