STATIONS OF THE FUTURE
Capturing the potential of public transport stations
by Sarah Palmer, Global Vice President of Market Development and Operations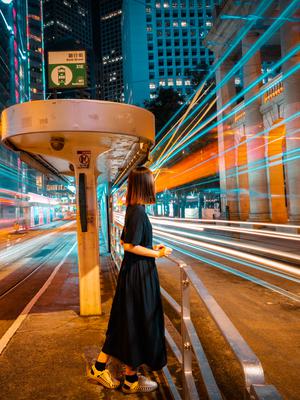 This blog is the first part of our three-part 'Stations of the future' series imagining the potential evolution of public transport stations - watch out for the next release soon.
When you think about public transport, you likely think of the trains, subways or buses that take you from A to B. Before you even get on one of those vehicles, you probably passed through a station of some kind. Stations are a vital part of any public transport ecosystem. They're the link between the public transport system and the rest of the world. But they can be so much more than just a place where people get on and off trains.
To unlock the full potential of the station of the future, we need to start by understanding the station of today. What is it? Why does it matter – and to whom?
What is a station?
Functionally yes, a station is where passengers board and disembark from transit vehicles but we cannot see them through that purpose alone. In cities around the world, stations are critical pieces of infrastructure for transport operators, community and cultural hubs for municipalities as well as assets that lead to positive outcomes that can be very hard to measure in a quantifiable way.
Stations need to be places that feel safe. This means people actively want to spend time there and don't feel threatened. This might include features that ensure activity, like food and beverage amenities or retailers. They should be well lit, have access to staff, and if not, provide other ways to access support. It should be easy to buy tickets and plan a route so people can easily get to where they want to go.
When you arrive at a new station, it should be easy for people to locate their connecting transportation or best exit to continue the journey on foot or by bike. Stations need to cater to the local everyday user, as well as to the new rider needing more information when trying to find their way. 
Beyond these basics, what stations look like – or what's even possible within them – depends on a variety of factors, including:
Budget & passenger usage: Funding often dictates how well a station is maintained, what amenities it offers, staffing levels and the potential of improvement work.
Location: Downtown stations see more traffic than rural or suburban stations. However the mainline terminus will have more space than the likes of subway stops in business districts.
Climate: Stations in cities enduring frequent wet and cold weather need to provide shelter that offers warmth and cover, while warmer places may look for greater shade and airflow that offers respite from the heat.
More than boarding platforms
Around the world, transit operators are recognising the need to update and improve stations, thinking about them more as community hubs, icons of the success of their transit programs, or in many cases, sources of non-fare revenue that can be returned into transit investments. The general attitude is moving away from the perception that they exist merely for boarding and disembarking.
While business district and commuter stations are typically designed to move people through as quickly as possible, with minimal extras, neighbourhood stations serve as welcome mats to their communities. These stations are often home to small local businesses that offer conveniences like coffee, dry cleaning and food services to streamline riders' days.
Some stations are destinations in and of themselves. New York Oculus, Toronto Union and Amsterdam Centraal all offer reasons to visit that have nothing to do with transportation, from spectacular architecture to shopping to sports. Historic stations like Bristol Temple Meads, Edinburgh Haymarket and Dublin Connolly are worth visiting just for the history and culture with their own limitations on what new development can take place. In San Francisco, some might see The Ferry Building on the Embarcardero in such light.
These types of stations are focused on providing a great experience for riders and local residents. But many more stations are lagging behind. Too often, stations are treated as afterthoughts within the public transport system, with little consideration for their impact on the passenger experience.
The stations of the future depend on collaboration
To create stations that serve the needs of all stakeholders, all those stakeholders must be involved in deciding what they'll look like and helping bring them into being.
Transit operators can have conflicting desires. While they want to meet passenger needs at the lowest possible cost, this can be at odds with making the investments that will bring more frequent ridership, as well as new passengers to the system. Local governments – often with the operators – share this goal. Operators and governments can support the stations of the future by listening to the needs of riders and other citizens and recognising public transport as a public good. There is still a lot of unrealised demand that must be nurtured in the system.
Retailers want access to a captive market where their services are, and they can help by working with operators to integrate their offerings with the transport service to streamline the passenger experience.
Real estate investors and asset managers want to get more value from their assets by driving more traffic to them. Building more housing, offices, and entertainment near stations can go a long way to achieving that goal.
And of course, we can't forget arguably the most important stakeholder group: the passengers themselves. They want safe, clean, timely trips. They want to be able to get around and pay their fares easily. They want a seamless door-to-door experience.
If we design better for the passengers today, we can also bring in a group that is neglected: the car drivers. They want similar things, but have so far chosen not to use public transport. Operators need to hear from them as well to understand how they can move out of the car and onto the bus or train.
The stations of today can be many things. By bringing together all stakeholders, really listening to what riders and potential riders need and want, and pushing the boundaries of the possible with great connectivity, the stations of tomorrow can be so much more.
Discover what a station can be
For a more in-depth look at what passengers expect from stations, watch for an upcoming blog from my colleague Josh MacKinnon. And check out our Stations of the future whitepaper released next week for more insights on how stations can change the face of public transport around the world.
Want to build the station of the future?
We're working with stations around the world to push the boundaries of what's possible with connectivity at its core. Get in touch and learn how we can create tomorrow's connected station, today.