BLOG
Getting fast Wi-Fi for all in NYC: Building the new Link5G network will speed internet connections
by Ray LaChance, Advisor, Boldyn Networks
Source: Daily News
The internet should be a great democratizing force, allowing information to be shared across the globe. At its best, the internet allows a student in the South Bronx to learn about rainforests in South America, sparking a lifetime love of biology and, years later, a doctorate. But the reality is that New York City's internet — just like our schools, hospital system, housing stock, and more — is segregated. 
Approximately one-third of households in the five boroughs lack the home and mobile broadband internet connectivity needed to fully participate in modern life — and nearly 1.3 million New Yorkers have no broadband connection at all. Generally, the communities that suffer the worst from this digital divide are lower-income and have more residents of color. 
In 2023, an internet connection is not a luxury, it's a necessity for school, work, and keeping in touch with friends and family. It's almost as critical as running water, electricity, and heat. During the early days of the COVID-19 pandemic, for example, the city distributed millions of 5G-enabled devices to help the nearly 13% of public school students who lack adequate home internet access study remotely. Countless students, however, were unable to participate because of poor 5G service. That's why public and private partners have come together to invest more than $200 million to help bridge New York's digital divide through LinkNYC's new Link5G program — above sidewalks, deep underground, and everywhere in between.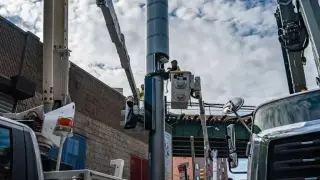 LinkNYC launched in 2015 with a bold plan: replace coin-operated payphones with infrastructure that provides free public Wi-Fi, phone calls, and local information. It's become the largest outdoor free public Wi-Fi network in the world, connecting more than 12 million users and placing more than 30 million calls. The next step of this partnership — Link5G — will provide the same free Wi-Fi and phone calls, plus a structure capable of hosting equipment from cell carriers like AT&T, Verizon, T-Mobile, Dish and others that want to expand their 5G networks. 
Equity is at the core of this build out, with 80% of new Link5G locations in the Bronx, Queens, Brooklyn, or Staten Island, or above 96th St. in Manhattan. But equity is more than building in specific neighborhoods, it also means creating an inclusive and open network for everyone, wherever they are in the city — which is why Link5G provides connections across the whole city, not just in certain neighborhoods. 
Stronger 5G networks will ensure everyone can get online, when and where they need to. But this isn't just about downloading an email faster — ubiquitous 5G coverage will transform the way we live. When 4G service rolled out, it provided the bandwidth needed for services like ride sharing and music streaming. If we fail to build 5G networks, New York City risks missing out on the technologies of the future. 
But that's just above ground. New York City's neighborhoods also suffer from disparities in fiber optic cable infrastructure, the basic building block of internet connectivity. While Lower Manhattan has more options for broadband service than nearly anywhere else in the country, fiber optic infrastructure is relatively sparse across the city, with the most sizable gaps in Brooklyn and Queens. As a result, the only choice for many New Yorkers is slower, more expensive internet — and because there is no competition, internet service providers have little incentive to improve. 
That's where Link5G comes in. Every time a new Link5G kiosk is installed through this public-private partnership, "neutral" fiber optic cable — unattached to a specific ISP — is installed alongside it to provide the bandwidth needed for public Wi-Fi and 5G. Thousands of feet of new fiber have already been deployed and more than $50 million of additional investment is planned. The network will eventually touch every community district in the city, allowing ISPs to bring additional options to New Yorkers — and at a lower cost. But that's not the only way Link5G will help bring broadband into New Yorkers' homes: cell carriers are now offering in-home Wi-Fi powered by 5G. 
While some in the city are criticizing this crucial work, most understand the value of this public-private partnership — and why it's critical that New York has the highest-quality, most equitably distributed internet infrastructure of any major city in the world. In the face of "Not In My Backyard" pushback against this project, more New York elected officials should vocally support Link5G as an investment that will pay dividends today, tomorrow, and for generations to come.