Blog
How connected communities enable smart cities
by Paul Osborne, CCO, UK & Ireland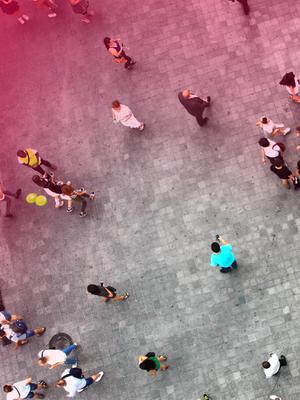 The widespread availability of 5G networks and smart technology can greatly enhance the quality and efficiency of our daily lives. Smart communities are the foundation of smart cities, utilizing advanced digital technology, real-time data, and analytics to create more intelligent infrastructure and improve the overall experience for residents, workers, and investors.
To achieve this, we must harness the power of data that urban environments generate in large quantities. By analyzing this data to enhance people's lives, we create a cohesive environment where different systems communicate with each other. At the community level, these interconnected systems lay the groundwork for achieving smart city status.
For instance, reliable and real-time information can help individuals optimize operational efficiency in their factories, explore educational and business opportunities, or simply find the best route from point A to point B with the assurance of monitored safety. As a result, communities become engaged and interactive.
This technological transformation relies on high-speed data networks, bolstered by advanced technologies like the Internet of Things (IoT), data analytics, and artificial intelligence (AI). The presence of neutral-host communications infrastructure is particularly crucial as it enables all carriers to expand their coverage at a fraction of the cost compared to doing it individually.
The benefits of this connectivity extend to improving the quality of life and service delivery. Devices connected to these networks serve as both sources of information and means to deliver that information to those who need it. These devices can simplify and streamline various aspects of life, such as managing footfall, traffic flow, parking availability, energy consumption, and air quality. Public and private enterprises can leverage this shared infrastructure to enhance efficiency, security, health and safety measures, and provide seamless experiences for users of their services.
Connected communities also create new commercial opportunities. Consequently, municipalities and governments worldwide are increasingly adopting smart applications to deliver better and faster services to a larger population. These applications transform raw data into alerts, insights, and actionable steps.
One example of a city embracing smart technology is Sunderland in northern England. Sunderland has swiftly embraced smart technology to address urban challenges, implementing initiatives in digital inclusion, transport innovation, housing, health, advanced manufacturing, and smart education. The common requirement underlying all these projects is a robust connectivity infrastructure that ensures equal access to data.
Sunderland City Council has awarded a 20-year strategic partnership to BAI Communications (BAI) to design, build, and operate advanced digital infrastructure, including a private 5G small-cell network. This project is a significant step toward achieving the council's smart city goals on a global scale.
Sunderland aims to leverage the power of 5G and IoT to establish a comprehensive connectivity network that enhances employment opportunities, business efficiency, and economic growth. The first phase of this partnership, which involves providing a 5G backbone to the city using a neutral-host approach, is nearing completion.
The priorities highlighted by Sunderland City Council include healthcare, social care, as well as fostering educational and skills development opportunities for all members of the community.
In terms of healthcare and social care, Sunderland's investment in assistive technologies provides tools to support vulnerable citizens. These tools encompass physical devices like prosthetics and keyboards, as well as software such as screen readers and communication programs. By utilizing these tools, people with disabilities or those in need of continuous care can meet their needs in their own homes, avoiding the necessity of staying in care facilities or hospitals. Furthermore, these devices can transmit health indicators and alerts to healthcare practitioners, keeping them informed about their patients' well-being.
Connectivity also has significant benefits for education. Through partnerships with schools, Sunderland can provide the necessary data access to enhance educational opportunities through online and remote learning, making a career in technology a viable option for students. In collaboration with Sunderland City Council and the University of Sunderland, BAI will establish a 5G test lab to support innovative research and an IoT network to improve campus services. Ultra-fast public Wi-Fi will be accessible throughout the campus, with added operational benefits like sensor-based waste bin monitoring and enhanced building management and security.
Private 5G networks also support smart manufacturing in factories. Sunderland has already made strides in smart manufacturing and Connected and Automated Logistics (CAL), resulting in improved efficiency, competitiveness, increased regional investment, and exports. Self-driving vehicle trials are also enhancing supply chain agility, including the use of autonomous heavy goods vehicles to transport goods between car manufacturers' supply chains and the Sunderland car manufacturing plant.
Ultimately, the goal of connected communities is to empower individuals. Through its partnership with BAI, Sunderland aims to extend digital capabilities to all its residents, fostering inclusivity and equality.
In the next blog of our 'Building the smart cities of the future series,' we will explore the capabilities of connected transport. Public transportation is a critical infrastructure that millions of people rely on daily, and digital innovations have become increasingly important in enhancing the travel experience, especially in the post-pandemic world.