BLOG
How to make stadium operations smarter and more sustainable
by Krista Harris, US Vice President of Wireless Solutions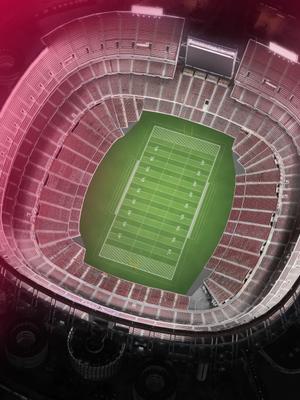 To create a great experience for fans, stadium operators need to focus on the day-to-day operations of the venue. This means keeping the stadium clean, safe, and secure. And to do it right, they need reliable wireless connectivity.
Good connectivity can improve how the stadium is managed and make behind-the-scenes tasks more efficient, eco-friendly, and cost-effective. When these cost savings are combined with a more appealing venue that fans want to come back to, it means more money to invest in improving the fan experience. It's a win-win for stadium operators everywhere.
Improving Safety, Security, and Well-being
A good starting point is installing a neutral host distributed antenna system (DAS) to ensure strong and uninterrupted wireless coverage throughout the venue. This coverage is crucial for wireless sensors and other devices that help manage the stadium better. One important use is for safety and security. If fans don't feel safe, they won't want to return.
For example, wireless cameras can monitor the movement of people inside and outside the stadium, such as which entrances and exits are used the most. This information can help with crowd control and traffic flow before and after games. We're currently working with an innovative NBA team that plans to use this technology to understand how crowds behave in different situations and improve fan safety.
But wireless cameras aren't the only useful technology. When combined with artificial intelligence (AI) or facial recognition software, they can enable ticketless entry, shorten waiting times, and even help find lost children. There are also advanced scanners that can detect weapons and suspicious behavior.
In terms of health and wellness, sensors can monitor and adjust air quality, and wearable devices can track players' fitness levels. These improvements help sports teams perform better and prevent injuries. And when incidents occur, they can respond more quickly.
Reducing Costs and Increasing Fan Satisfaction
Better connectivity can also help stadium operators cut costs in different areas, allowing them to invest more in the fan experience.
For example, automatic shut-off valves can save water, and leak detection systems can identify plumbing issues early on. Sensors connected to lighting, ventilation, and temperature systems can help manage energy consumption. Proactive equipment maintenance means not waiting for something to break down before fixing it.
All this data can be combined into one easy-to-use system, making operations simpler and more efficient. Real-time adjustments can be made based on crowd levels, traffic patterns, and event schedules. This has a significant impact on the fan experience. Monitoring foot traffic in bathrooms, for example, allows cleaning schedules to be adjusted to focus on busy areas. Sensors can also keep track of supplies like soap and paper towels to avoid running out.
Using Data to Improve Stadium Design
To make informed decisions that enhance stadium operations, it's essential to understand fan behavior. This includes knowing what concessions fans prefer, how they like to purchase items, and how they use the stadium's mobile app. This data helps make small and big changes in day-to-day operations and can even influence the design of future stadiums.
During the pandemic, reliable connectivity helped stadium operators adapt to challenges. For example, they set up temporary stands in open-air spaces to sell food and merchandise. But there's more to come. In the future, concession stands and team stores might be replaced by ordering from your seat. This would create more space for fans to gather and socialize. Connectivity can also extend beyond the stadium itself, like the L.A. LIVE entertainment district in Los Angeles, which offers the same advanced connectivity as the stadium.
To begin this journey of operational excellence, stadium operators can start by using a user-friendly app that offers features like ticketless scanning, geolocation, and concession ordering. This way, they can directly engage with fans and collect valuable data.
Putting Fans First: Advancing Stadium Operations with Better Connectivity
The fan experience is the most important part of stadium operations. No fans, no revenue. By improving day-to-day operations and adopting advanced connectivity and data analytics, stadium operators can create a memorable fan experience while achieving efficient and cost-effective operations. These technologies also pave the way for optimizing stadium operations and serve as a blueprint for designing future stadiums with fans in mind.