News
Group CMO Sarah Roberts, an Innovator 25 class in EMEA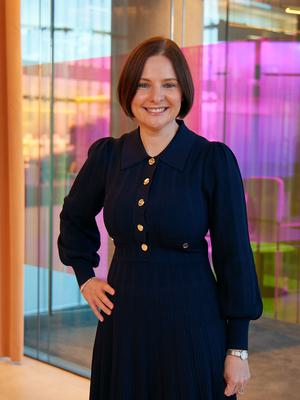 "Innovation can be as big as creating something brand new or as small as rethinking a process. It is about ideas and change to create value to people, business, communities and society." 
---
After almost 20 years in marketing and communications and with a reputation for driving business growth, Sarah Roberts joined network infrastructure company BAI Communications in 2017, now rebranded as Boldyn Networks. She led the company-wide project to bring together all BAI Group companies under one brand with a new brand strategy and identity, rooted in AI technology, and has been at the forefront of the company's communication and marketing strategies throughout its global expansion and transformation, including four acquisitions over the last two years. Roberts has been instrumental in maintaining a strong and integrated voice across all businesses and geographies, managing communication around change, and reimagining communication with customers and partners. She has also played a crucial role in securing groundbreaking projects – such as working with Transport for London to bring 4G and 5G mobile coverage to the Tube network across the capital – via innovative digital tools, channels, and forums. Other key projects Roberts has influenced include bringing 5G to more locations than ever before in New York City, as well as Boldyn Networks' partnership with Sunderland City Council to realise its ambition of becoming the UK's most advanced smart city through advanced digital infrastructure, and the expansion of connectivity to large sports and hospitality venues, ports and enterprises.
How do you define innovation?
Doing things differently and thinking outside the box. It can be as big as creating something brand new or even as small as rethinking a process. It is about ideas and change to create value to people, business, communities and society.
What is the most innovative PR or marketing initiative you've seen over the past 12 months?
What Mattel has done to make itself and Barbie relevant again has been incredibly impressive and by far one of the most successful marketing campaigns this year. The movie alone has grossed well over $1 billion worldwide by now. It's not about the movie but Mattel's entire strategy leading up to the movie and even after. With the toy industry slowing down, the Barbie story is a lesson for toy makers on how to create a story and use different partnerships and channels to inundate the market and reach all sorts of audiences regardless of age or toy preferences. And there are big retail winners as well around it, from clothing stores to entertainment franchises.
In your opinion, which brands and/or agencies are most innovative in their approach to PR and marketing?
There are very good examples of how companies together with agencies are evolving their creativity and gathering public attention in the midst of a very competitive and saturated marketplace. L'Oreal recently launched a Maybelline mascara campaign that features a tube carriage adorned with eyelashes driving under a Sky High Mascara wand, and a red double-decker bus with a similar set of big lashes above the front top window. These effects are enabled by advanced technology (very likely AI), and when done with the right intention and taste, the creative result is incomparable and the impact is measurable. Coming from a technology company, I firmly believe that this is what companies can leverage technology for, always with the human touch and creativity behind it.
Describe a moment in your career that you would consider to be innovative.
The building of our new Boldyn Networks brand and use of AI to do it. At Boldyn, while we're not a consumer-facing company, we treat B2B as what I call 'B2Human' and try to challenge our creativity. Because at the end of the day, humans are behind all corporate customers who make the buying decisions. So for our rebrand, working with Landor&Fitch, we pioneered the use of AI-created imagery in our industry. It was a combination of innovation in how we thought of our customer and the use of technology to create an identity that pushes boundaries in our industry and clearly shows we are a business that does things differently.
Who do you admire for his/her approach to innovation? 
Someone I admire is Coco Chanel, one of the most influential and successful entrepreneurs of the 20th Century, who changed the course of women's fashion and gender equality. With grit and determination, she repositioned a whole category and gave woman a voice. In her words "Fashion is not something that exists in dresses only. Fashion is in the sky, in the street, fashion has to do with ideas, the way we live, what is happening."
How do you get out of a creativity rut?
Two very opposite actions. 1. Space and air, taking time away from my desk to let all the ideas sink in and giving them a chance to marinate. 2 Talking through ideas with people completely outside of my functional area and being challenged with new thinking.
What advice would you give to the PR industry around embracing innovation?
Have patience and an open mind. Change is never easy and never happens overnight. It can take a few trials of a new idea or way of doing something for you to find the right solution.
What would you be doing if you weren't doing your current job?
Sports psychologist. I find motivating individuals and teams so fascinating. I studied psychology at university which has given me amazing insights for marketing and communication to people but I always had plans to do further study in this area.
Which book/movie/TV show/podcast/playlist/other cultural source has provided inspiration over the past year?
I really love Ted Lasso. It is a great reminder about the importance of good leadership and bringing people together to create a team that can achieve anything. And remembering the truly important things in life and how paramount kindness and respect is in business and everything you do.
How can the PR and communications industry harness innovation to make more progress on diversity, equity and inclusion?
Firstly, by ensuring that DEI is a key pillar in their own business. Change has to be driven from inside first which can create a stronger movement in the wider market. And it can be small initiatives across the business that starts the change. The industry has a large voice with a strength in storytelling and being creative with new ideas and initiatives. It is a matter of harnessing those strengths, sharing their own stories and challenging the industry to do more.
---
Source: Provoke Media