STATIONS OF THE FUTURE
Imagining the stations of the future
Blog by Chris Burchett, Head of Product Development, Innovation and Solutions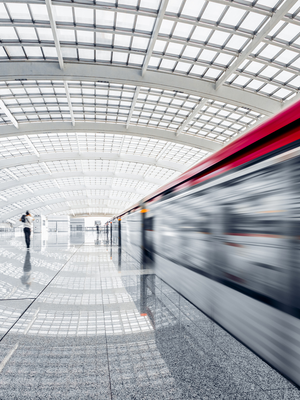 This blog is part of our three-part 'Stations of the future' series imagining the potential evolution of public transport stations. For even more insights, check out our Stations of the future whitepaper.
Sensor-based ticketing. Personalised wayfinding. An automated air taxi waiting to take you from the station to your final destination. These might sound like the stuff of sci-fi, but forward-thinking public transport operators are already working on making them a reality in their stations.
In recent blogs, we've considered what stations look like today and what passengers want from stations. Now it's time to push the boundaries even further and explore what the stations of the future could be – with enough imagination and the right connectivity infrastructure.
Good for passengers, good for society
Enhancing public transport stations to deliver great experiences for everyone who uses them is good for society. Helping people feel safer and improving multi-mode integrations for a smoother end-to-end journey will increase ridership. And the more people use public transport, the less they're relying on their cars. That in turn lightens the load on roads and highways, helps the environment, reduces costs related to road infrastructure, and improves overall health with people walking and cycling more.
Strengthening in-station connectivity to enable innovations that improve the rider experience also helps bridge the digital divide by making great connectivity available to more people. All of this supports a greater quality of life, which has far-reaching implications to the rest of the community: more economic growth, less crime, and an overall healthier and happier population.
What can be done now?
Some improvements to the passenger experience are possible today with modest investments and little or no need for new tech. For example, people carrying babies or personal items would have an easier time using the bathroom with in-stall baby holders and shelves. Small ledges throughout the station would allow people to set things down or open a laptop to send a few emails while they wait. Stations with enough space could even create small quiet pods where people can get work done or make a phone call.
Using space gained by swapping staffed ticket booths for self-serve kiosks, stations can introduce coffee shops, pop-up retail experiences and other amenities, and integrate them into the rider experience. Imagine combining your coffee and pastry order with your station transfer so they're ready for pick up on the way to your next train.
QR codes could make it easy for riders to report things like an overheating hand dryer, a broken tile or a spill. Simply take a picture and send it along with pre-populated information about location and time. When passengers can meaningfully take part in upkeeping their transit system, it sparks a sense of pride that often encourages them to stay involved.
What's on the horizon?
Wayfinding could be improved today with better, clearer signage. But it is also possible to introduce more interactivity and even personalised guidance and alerts. Information important to each rider could be sent directly to their phones, smartwatches or headphones to help them find their way or clue them in to issues affecting their services. Collaboration between transport systems could also help by developing a standard navigation system for all stations so riders always know what to look for.
With connectivity and smart LEDs, dynamic platform lighting could indicate which cars have the most space, are accessible, or have capacity for bicycles, strollers or other bulky items. On arrival, lighting could also point riders toward specific exits or connections.
Sensors that detect where a rider enters and exits the system could automatically charge the correct fare for each trip. This would streamline the boarding process and reduce confusion when there are multiple fare options. And by tying this into existing data systems, operators can make improvements based on anonymized data that gives insight into the paths riders take on their journeys, indicates when platform congestion is getting dangerous and reveals suspicious patterns of behaviour.
By moving passengers through stations more efficiently with solutions like these, operators will be able to reduce congestion during peak hours to allow freer movement for everyone.
What else is possible?
Still more improvements could be made once technology advances enough. These include cobots or drones that could support cleaning, wayfinding, security and more. Unobtrusive weapon detection systems based on video analytics and other sensors could improve security without adding delays.
Better support for 'final mile' travel could someday include pickup spots for autonomous air taxis. Until then, better support and improved infrastructure for more conventional solutions like buses, bicycles, scooters and ride sharing could make it easier and safer for people to get from the station to their destinations.
Connectivity is key
Great connectivity is the backbone of most of these solutions. That requires investment in connectivity infrastructure – and a commitment to keep that infrastructure up to date as network technology evolves. At Boldyn Networks, it's our goal to make sure every station has the connectivity it needs to become a true station of the future.
Want to change the future of transport?
The possibilities are endless when reimagining a connected future. So, let's work together to create a world where mobility is seamless. Sustainable. And accessible for all.
Related content
Find out more about stations of the future and what we do in transport.