STATIONS OF THE FUTURE
Stations of the future are built on riders' needs
Blog by Josh MacKinnon​, Engineering Systems Director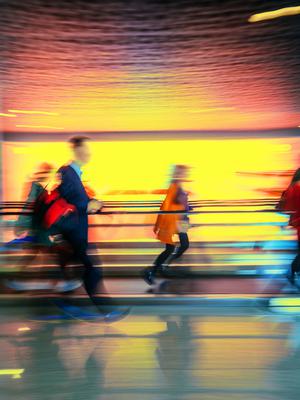 This blog is part of our three-part 'Stations of the future' series imagining the potential evolution of public transport stations. For more insights, be sure to check out our Stations of the future whitepaper.
Riders are the most important part of any public transport ecosystem – public transit doesn't exist without them. And yet, operators often focus so much on improving system efficiency that they overlook riders' needs. As we saw in a recent blog on the stations of today, this is especially obvious in stations, which tend to be another overlooked area in transit. Many stations are treated as little more than places to get people on and off the train as fast as possible, even if that's not what the riders want or need most.
But while this strategy might save money in the short term, ignoring riders' needs and preferences ultimately harms the system. Travellers who feel unsafe, who are forced to go out of their way or wait too long for a train, or who don't feel the service is worth the cost of the fare will choose another way to get to their destinations. To deliver the experience riders truly want and inspire more people to choose public transport, the stations of the future must take a different approach based on a clear hierarchy of rider needs.
Start with the foundations
Above all else, riders want to feel safe and secure. If they don't, they'll choose another form of transportation, and the transit system is left with people who have no other alternatives. Having more services open later will increase the perception of security by driving more traffic to the station – most people feel safer with other people around. Integrating small police and paramedic outposts directly into the station can also help give people the confidence that if something does happen, response will be quick.
Station cleanliness is another big factor in people's sense of safety. A cleaner, well-looked-after space generally feels less threatening to most people. And in the post-pandemic world where infection is a greater concern, cleanliness itself has also become closely linked with health safety. In other words, riders expect regular and frequent cleaning to be part of every station's basic operations.
Then cover the essentials
Riders want accessible stations that make everyone feel welcome. People need to be able to move around easily no matter their physical condition, so every station needs ramps, solid railings and elevators. And some people have trouble standing for long, so stations need to have plenty of benches to sit and rest.
Clear wayfinding is another essential feature for riders. A new rider should be able to find their way around just as easily as someone who takes the same trip every day. This means designing easily understood route maps and ticketing information that makes it simple to choose the right fare. Riders also want clear directions to their next connection or to get out of the station at the best exit for their destination.
Finally, enhance the experience
With the foundations and essentials taken care of, you can take the experience to the next level with features that make riders' journeys more comfortable. Things like laptop shelves or small work pods where people can stay productive while they wait for their train. Frictionless fare payment can make sure they never miss a train while fumbling with a ticket. Simple conveniences like these can make all the difference for people on the move.
Riders also appreciate having easy access to food and drinks services so they can grab a coffee on the way into work and pick up dinner on the way home. A variety of shopping and service options like dry cleaning, repairs, flowers and more can save riders a stop – and make the overall travel experience more enjoyable.
Connectivity is the key
Creating a public transport system people want to use requires addressing their needs in the right order. If people don't feel safe in the station, it doesn't matter how many other amenities you offer. They still won't ride.
Connectivity is critical to delivering on all these needs, from safety to enjoyment. It helps people feel safer by letting them stay in touch with loved ones while they travel, without fear of disconnection. It lets them connect with operations staff to report safety concerns like trip hazards, cleanliness issues like a spill on the platform or maintenance needs like a stopped escalator. Connectivity can also support technological solutions to these issues, using sensors, computer vision and analytics to watch for security threats, detect dirt build-up levels that could stall escalators and monitor equipment condition for predictive maintenance.
With full-system connectivity, wayfinding signage can be kept up to date with key details on route changes, delays and other information passengers need to manage their trips. Eventually, these updates could be fully personalised, with route-specific information fed directly to riders' phones so they never miss an update. Riders could even receive tailored offers for retail and food services they use frequently or that are nearby.
Today's riders simply expect to be able to connect wherever they are, so they can entertain themselves, stay productive or stay in touch. Making fast and reliable connectivity is essential to the Station of the Future.
Explore the possibilities for the stations of the future
To learn more about our rider-centric vision for the stations of the future, watch for an upcoming blog from my colleague Chris Burchett.And check out our Stations of the future whitepaper for more insights on how stations can change the face of public transport around the world.
Want to build the station of the future?
We're working with stations around the world to push the boundaries of what's possible with connectivity at its core. Get in touch and learn how we can create tomorrow's connected station, today.