Venues & Property Owners
Seamless wireless connectivity for buildings of every kind
A sports arena or live entertainment venue. A towering office building or sprawling retail space. A high-end hotel or resort. Whatever kind of property you own, we can help you connect it.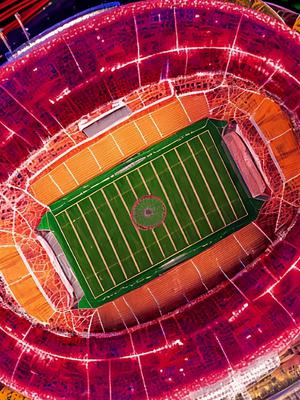 Sports and entertainment venues
Sports and entertainment venues
Wow fans and visitors with world-class connectivity
Digital ticketing. Immersive VR/AR applications. In-seat ordering. Contactless payment. Innovations like these create experiences fans won't soon forget – boosting revenue and attracting even bigger acts and sponsors. But how can you achieve the type of connectivity those applications need?
With our neutral host wireless infrastructure. We design, build and run scalable, best-in-class public and private networks designed for crowded indoor environments. From secure public Wi-Fi to DAS solutions and private 5G networks, we can do it all for your venue.
Advanced connectivity can transform your day-to-day operations. It can also help keep fans and staff safe – supporting wireless security cameras, emergency communications and AI-assisted threat identification. And it can grow your revenue by enabling digital ads, real-time sports betting and more.
With our neutral host solutions, multiple carriers can deliver services over the same infrastructure. That saves you space and reduces CO2 emissions.. Fans stay connected, no matter who they're subscribed to. And it gives you more ways to fund your project, including an option with zero cost to you.
And we tailor our approach to your needs, working around your schedule to minimise disruption to your events. Plus, we'll run the networks we deploy and monitor them 24/7 – to make sure you can keep delivering a consistently amazing fan experience.
Commercial real estate
Commercial real estate
Attract high-quality tenants – and keep them
Poor on-site connectivity is likely to send potential tenants out the door. It can even cause current tenants to leave in search of a better wireless experience. But how can you improve the situation with many wireless carriers no longer funding in-building networks?
Whether you're developing a new property or retrofitting an old one, we can design, build and manage the infrastructure you need. Indoor and outdoor DAS networks. Private or public Wi-Fi. 5G small cells. We do it all for properties of every class and size, from small buildings to mega-developments.
Because our solutions are neutral host, multiple service providers can use them. So whatever carrier they use, tenants can enjoy a great wireless experience. This approach also requires less space and power. And with our flexible funding options, you can choose to pay upfront or over time.
We meet your wireless infrastructure needs from end to end. It starts by tailoring a solution for your unique property. And once it's built, we manage it all. That includes 24/7 monitoring to keep your network optimised and your tenants connected.
Hospitality
Hospitality
Enhance the guest experience and your operations
Fast, reliable, seamless connectivity throughout your building. It's what guests expect – whether you run a hotel, casino or convention centre. It can also enhance the guest experience in other ways, enabling modern functions like remote check-in and mobile keyless entry.
From public Wi-Fi to private 5G, we can design, build and manage the wireless infrastructure you need to bring fast connections to every room. Run back-of-house operations securely. Reduce costs with smart in-room lighting, temperature controls and other connected features.
As a neutral host, we build one network all carriers can use. Delivering consistent coverage and capacity for every guest and application – while reducing energy costs and emissions. And we monitor our networks 24/7, keeping you connected by catching small issues before they become big problems.